Welcome to Vic's Bar & Grill!
Great food, good friends, live music & cold beer!
  
Award winning burgers, cold beer, full bar, live music, drink specials, free WiFi, fun atmosphere and friendly staff. Your typical corner bar. Local owners. Our hamburger is ground fresh daily and seasoned with our special spices, making it a spectacular burger experience that is well worth the drive to Victoria!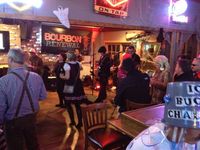 LIVE MUSIC AT VICS! 
Get your party on ... with great live entertainment
every Friday and Saturday ... live at Vics
CLICK HERE FOR CALENDAR
Contact Us:
Phone (952) 443-2542

Hours:
Mon: 10:00 am - 11:00 pm
Tue: 10:00 am - 11:00 pm
Wed: 10:00 am - 11:00 pm
Thu: 10:00 am - 12:00 am
Fri: 10:00 am - 1:00 am
Sat: 9:00 am - 1:00 am
Sun: 9:00 am - 11:00 pm